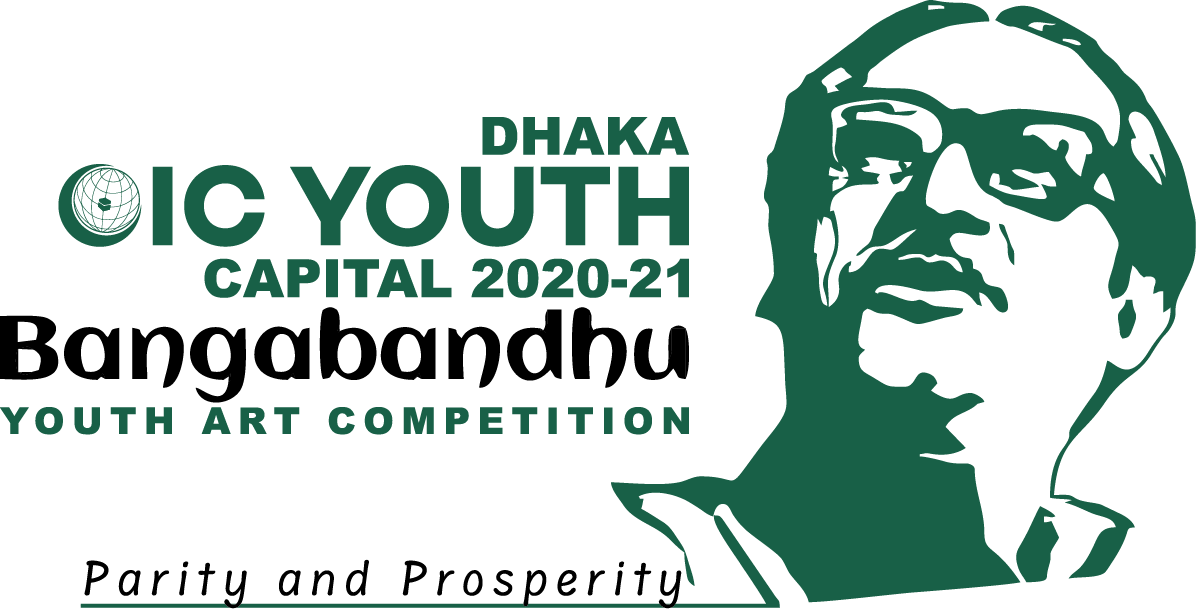 Dhaka OIC YOUTH CAPITAL 2020-21 Presents Bangabandhu Youth Art Competition
Dhaka OIC Youth Capital 2020 is particularly important in the COVID-19 and post-COVID recovery and reconstruction of an equitable global economic order. It emphasizes on the leadership, vision, ideation and imagination of the youth for constructing an innovative, resilient, and inclusive narrative to ensure a leadership position in the affairs of the world. Dhaka OIC Youth Capital 2020 believes that each new life comes with a potential and a promise, making it an excellent platform for the young and emerging artists from OIC regions and beyond to display their artworks and find and reach the art lovers all over the world.
To celebrate the Dhaka OIC Youth Capital 2020, ten other elaborate mega events have been designed which will be implemented by various lead and co-lead Ministries throughout the year. Among them is Dhaka OIC Youth Capital 2020-21 Bangabandhu Youth Art Competition which will be organized by the Ministry of Cultural Affairs of Bangladesh, in association with the Ministry of Youth and Sports of Bangladesh and the Ministry of Foreign Affairs of Bangladesh. This Art Exhibition will provide a highly effective forum that will enable "undiscovered" and upcoming artists to expose their artwork and artistic talents to the greater art community. This Art Competition will give the upcoming and emerging young artists a great opportunity to have their works reviewed by most esteemed judges and to secure important exposures and also to gain access to future art exhibitions.
| | | | |
| --- | --- | --- | --- |
| Region | Number of Artists | Region | Number of Artists |
| Bangladesh | 20 | Africa | 15 |
| Middle East | 20 | North and South America | 10 |
| Rest of Asia | 20 | Europe and Australia | 15 |

The theme of the exhibition is Parity and Prosperity under the categories of visual forms of artworks classified as below:
Artists must follow the subjects given below in order to represent their selective thought and imagination to participate in the respective events.
Bangabandhu and Bangladesh
COVID Pandemic
Humanity in Refugee Crisis
Youth Spirit in Technology
Islamic Art
Climate Change
A- Eligibility Criteria for Participation
Participants must be from 18 to 35 years old for both genders.
Participation is allowed to young people of OİC Member States or youth representatives of non-OİC Member States.
Participants who are interested in Art and Culture
Application Conditions
Participating artists are requested to register and upload their artwork at the website
Artists will be notified for participating in the virtual exhibition.
The selection result will be also posted on the website.
Applicants are required to attach necessary documents along with the registration form.
Completion of the participation application form means the participants' acceptance of all of the contest regulations.
Submitted works to the contest are not allowed to be retrieved.
The works are not allowed to be changed, modified or re-sent again.
Works that have won in any other national or international competitions would be disqualified.
The applicants for contest participation should fill out a registration form. The completion of the form means that the participant is the owner of the work. If the case where there should be any legal claim against it, he/she will bear full legal responsibility. Organizing committee carries no responsibility for the rights regarding the ownership of works.
The Organizing Committee shall have the right to publish the participating works in the competition through the publications of the event and during the all media coverage related to the competition, and to introduce the participating artists.
Each participant can submit their artworks for selection process in maximum three categories and only one artwork for each category.
The submitted works are subject to arbitration by a specialized jury.
Decisions of works selection and arbitration committees are final and may not be objected or challenged.
The participation form shall be sent before the specified deadline for the registration for the event.
Works must be submitted with a brief description/background in Bengali (for national participants) or in English (for international participants).
Limitation of liability
The organizing committee assumes no responsibility for any error, omission, interruption, deletion, defect, or delay in operation or transmission; communications line failure; theft or destruction of or unauthorized access to the contest entries or entry forms; or alteration of entries or entry forms.
TECHNICAL REQUIREMENTS FOR WORKS
The sent work file shall bear the person's first and last name (in English)
The competition is solely dedicated for professional artistic works that embody the theme "Parity and Prosperity" and that do not deviate from it or call for a particular political tendency.
The participating works must be original, not copied from any other original works, and recent. They should not be published before, nor submitted to any other competition, except for digital works only, whose copies are accepted to be printed on papers suitable for artistic presentation only.
Images of the artworks should be submitted in JPEG format in 300 DPI resolution and RGB colour mode. Each file size of the attached Image should not be more than 20 MB.
The artist is free to choose the colors, materials and techniques while adhering to the theme of the competition.
FORMAT
A jury who will select winners will judge the entries submitted by the applicants. The jury's decisions are final and binding in all respects and not subject to appeal. Submitted entries will be evaluated according to the following criteria.
Message
Originality and creativity of expression
Quality of execution
REQUIRED DOCUMENTS:
A CV with including information of the participant
Scanned copy of passport/National ID, educational, professional certificate (optional). Participants must submit the relevant documents in not be more than 2 MB.
TIMELINE
Registration and submission of the artwork images and documents: March 1 2021 to April 30 2021
AWARDS:
Regional Category Champions:
Bangladesh
Contemporary Art: $500 USD
Calligraphy: $500 USD
Photography: $500 USD
Graphic Design: $500 USD
Africa
Contemporary Art: $500 USD
Calligraphy: $500 USD
Photography: $500 USD
Graphic Design: $500 USD
North & South America
Contemporary Art: $500 USD
Calligraphy: $500 USD
Photography: $500 USD
Graphic Design: $500 USD
Global Champions
Contemporary Art: $2500 USD
Calligraphy: $2500 USD
Photography: $2500 USD
Graphic Design: $2500 USD
Rest of Asia
Contemporary Art: $500 USD
Calligraphy: $500 USD
Photography: $500 USD
Graphic Design: $500 USD
Middle East
Contemporary Art: $500 USD
Calligraphy: $500 USD
Photography: $500 USD
Graphic Design: $500 USD
Europe & Australia
Contemporary Art: $500 USD
Calligraphy: $500 USD
Photography: $500 USD
Graphic Design: $500 USD
* All Selected Artists will receive Certificate for their Participation

JURY
A selection committee will shortlist the participants for the exhibition
A jury panel will be responsible for judging the selected artworks & Winners
Note: Only award winners will be informed.
Contact
Department of Fine Arts,
Bangladesh Shilpakala Academy,
National Academy of Fine and Performing Arts
14/3, Segunbagicha, Ramna, Dhaka-1000, Bangladesh.
Phone : +88 02 955602;
Mobile : +8801713047571; +88 01711183544, +88 01711174918
E-mail : shipakala.dhaka@oicyouthcapital.com
Award and certificate will be given in December.